Development Pulse Fishing Feeder Cable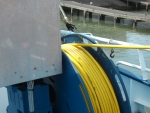 The feeder cable
The feeder cable is a vital part of the rigging. The pulse field on the seabed is provided with power via the feeder cable. Communication with the rigging is via the cable as well. On the bridge, the fisherman can, for instance, see how the pulse field functions, check the water temperature, etc. The feeder cable used to malfunction in the past. There were leaks in the cable or the coupling between the cable and the beam. Delmeco has developed a new feeder cable in cooperation with De Regt Marine Cables.
The cable has been brought into use on four ships and has been tried in practice. On the TX68, research institute ILVO has researched the cable´s underwater performance. Insight was gained into the effect of fairings on the cable. Fairings turn out to be highly effective and cables with fairings no longer vibrate.
All test ships that are fitted with the prototype of the cable take part in the monitoring research of the LEI. Their fuel use, grossing and maintenance and repair costs were registered and included by LEI in a report on the economic results of pulse fishery.
Due to several cases of damage to the prototype cable another material was chosen for reinforcing the feeder cable. Additionally, the breaking strength of the cable was doubled by increasing reinforcement of the cable. A plan for short-term additional research into wear and tear of the cables is under consideration.
The development of a new cable with another set-up and material use has helped improve the cable´s reliability and lifespan. Leaks into the cable no longer occur. Furthermore, other design goals were obtained. The diameter of the cable is reduced compared to the existing cable. The cable has a highly visible colour. Another termination was applied which turns out to be leak-proof. The tensile relief of the new cable is integrated in the outside cover. The research into shrimp pulse has proven that the pulse fishing system and pulse fishing rigging are fit for both sole and shrimp fishing.
image: feeder cable