modernised pulse fishing system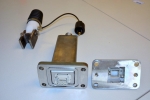 Recently, Delmeco Fishing Technology has profoundly revised its pulse fishing system. In this development period, Delmeco Fishing Technology developed new Pulse Power Units (PPUs). The new PPUs are more modern than the present PPUs and are fitted with a master-slave control, which allows the user to adjust the master. During development of the PPUs, the entire pulse fishing system was modernised and improved. For instance, the pulse fishing system is now fitted with the new parts listed below:
PPUs  (Pulse Power Units);
CMU (Central Measurement Unit);
Measurement instrument;
Coupling flange;
Plug/swivel mounting combination for the purpose of coupling flange;
First part of the electrodes.
 The PPUs are mounted on the coupling flange. The coupling flange is fitted with a plug at the back. As the PPU is mounted on the coupling flange, replacements can be mounted in no time, partly because the PPU address is programmed in the beam instead of in the PPUs. As a result, direction takes place automatically during assembly and/or replacement of a PPU. We are also now using a new way to mount the first part of the electrodes with the use of a plug/swivel combination at the back of the PPU.
An additional plus to the new system is that the OWIP is no longer needed. It has been replaced by two new instruments that are also better equipped for the black box system and future legislation: the measurement instrument and the CMU. These two measuring instruments measure, amongst other things, the depth and water temperature during fishing expeditions. These data are displayed on the upgraded  HMI screen. The screen has a more modern look. The multibeam, for instance, is now represented as a  3D image. As a result, the beam is now always visible from both angles. Partly on account of all of these adjustments, the pulse fishing system is now more user-friendly.   
An extra functionality was built in in the HMI. With the help of this functionality, the outpuls can be visualised in a chart for each separate module. This enables a check of the proper operation of the
module with electrodes.
For further information, feel free to contact us.