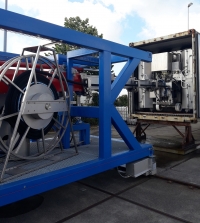 Marine Systems is very proud at the development and production of our automated container cleaner and the achieved result! This was commissioned by the TICCC and in collaboration with Snap Solutions. We are honoured that we can take further care on future productions.
What is a container cleaner?
The developed and patented solution is an automated inside container cleaner which is able to wash shipping containers with a telescopic arm with four brushes on the front. It can clean a great diversity of containers (reefer containers, cool trailers, dry containers and open toppers in standard or high cube 20 ft, 40 ft and 45 ft with aluminium flat floors, aluminium T floors and wooden floors). Furthermore, containers can be cleaned on and off chassis.
Advantages of a container cleaner
More intensive cleaning of containers;
Continuously guaranteed quality;
Reduction of personnel costs;
Less container handlings;
Cleans a 40ft container in 4 minutes (12 containers per hour);
Choice of different washing programs;
Water consumption 40 to 140 litres per cleaning;
Healthier and safer environment;
Less space needed;
Less (and less aggressive) detergents needed.
Furthermore, the installation is easily transportable (20ft frame in 40ft container), remote monitoring is possible, and parts/components are worldwide available. The installation is built according to European machine guidelines and is easy to implement in a food management safety system (HACCP, ISO 22000, FSSC 22000, IFS of BRC).
Buying or leasing a container cleaner
Based on the number of cleaned containers every year, a container terminal/depot may decide to buy or lease a container cleaner, or perhaps even several. When there's need for several machines, they can use the same rail system and infrastructure. However, the number of lanes will be extended. Want to know more? Download the information sheet below.